Design chief and self-proclaimed eco-warrior Kat here. OK, I'm not quite an eco-warrior, and dreadlocks wouldn't be a good look for me, but I do like to try and do my bit. In my quest I've stumbled across some refreshingly innovative products and services that I think would soften the hardest deniers.
We recently ran a couple of polls asking you how concerned you are about climate change and plastic waste and it seems that a lot of you, along with the UK government, tend to share my concerns.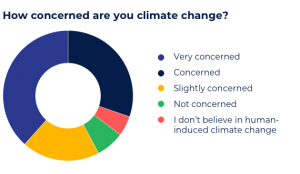 When we asked you how concerned you are about climate change, 38% of you said you were very concerned, 30% were concerned and only 12% weren't concerned or didn't believe there was a human factor involved. On plastic waste, 53% of you said you were very concerned with only a tiny 3% who were unconcerned.  Encouraging stuff! So much so, I thought I'd write this blog and share some of the environmentally sound products and services that I'm using and give you the opportunity to try them out for yourselves.
---
Splosh – Cleaning products
Why they're brilliant:
💚 Refills come through your letterbox for free
💚Great value as they cut out all the unnecessary stuff
💚Cruelty-free
I've been using Splosh now for a few months and I only have positive things to say about them. In all honesty, I wasn't expecting their products to work as well as say Ecover but they're brilliant, smell amazing and reduce plastic waste, plus they've now introduced shower gels which I'm unreasonably excited about.
Get £3 off your first order at Splosh.com using this code: ZR6A6EY13W
---
Who Gives a Crap – Loo roll
Why I like them:
💚50% of their profits go to organisations working to improve access to hygiene, water and basic sanitation in developing countries.
💚Free shipping on most orders
💚Double length rolls
💚Pretty packaging (Hey, I'm a design nerd)
OK, admittedly, there are cheaper options for toilet paper out there and they do have a mixed bag of reviews on Trustpilot, BUTT(sorry), I love their ethos, plus I'm not as fussed as some people when it comes to how white the sheets are so I went ahead and ordered 24rolls which according to their site should last about 16 weeks!
Get £5 off your first order here
---
Octopus Energy
Why I like them:
💚They're the only supplier to be recommended by consumer champion "Which?"
💚100% Green electricity
💚No contract locking
💚Cute Octopus mascot
I've been with Octopus for a couple of years now and have no complaints. They have an easy to use app to submit meter readings and have recently introduced free Smart Meters meaning I don't even have to submit anymore. Did I mention the cute mascot?
---
Field & Flower – Free-range meat & sustainably sourced fish
Why I like them:
💚Amazing quality
💚I can buy in bulk and freeze the lot
💚Supports independent local farmers
💚Excellent customer service
💚Easy to use website
I've been ordering from these guys for years, and although I've reduced my meat consumption recently, at least when I am feeling especially carnivorous, I know where the meat on my plate has come from and that the animal was reared using the highest welfare standards. You might expect it to be really expensive, but for comparison, 2 free-range chicken breasts are cheaper than the Sainsbury's equivalent. Have a look at their prices and see if it's something you think might work for you.
Get 20% off your first regular box
Thanks for reading all the way down! Now go hug some trees!
Kat